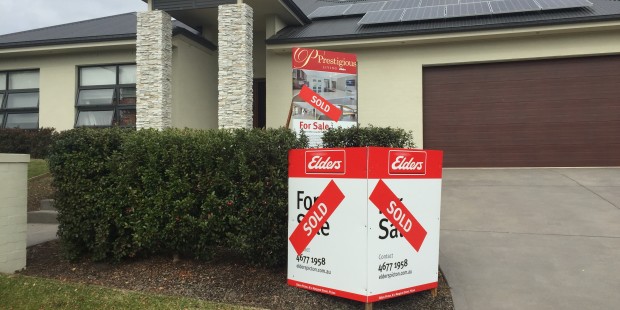 Recommendations
It was Tamara's Knowledge that got the Sale.
15 May 2017
Our sale came through because of a team effort at Elders Picton.
Geoff and Amanda Eagles were great in supporting us with their knowledge of the market in terms of pricing (Geoff) and rental return (Amanda). This allowed us to have a strategy for dealing with Investors and for managing our own expectation.

However it was Tamara who brought this deal home.
We specifically chose to work with Tamara thanks to previous dealings with her (at opens we visited) and we were not disappointed. She was constantly keeping us updated and it was her intuition and follow-up work that delivered us the buyer.
When we were offered a lesser price it was her confidence that we could do better than helped confirm our own expectation of what price was reasonable.

I have heard that Elders Picton is the go-to Real Estate Office in the area and my own experience confirms that.
I recommend Tamara without hesitation.
Geoff's effort has been excellent and we are extremely happy with the results.
04 April 2017


We asked three agents for an appraisal and Geoff happened to be lucky last. Geoff, (and Tamara) impressed us greatly, from the very beginning, they took an interest in our home and listened to us intently. Throughout the sale process Geoff, on a regular basis, kept us informed and gave us good advise resulting in a very good outcome. Finally, we would also like to add that we were most impressed with the entire sales team at Elders Real Estate Picton and would highly recommend Geoff and his team to anyone who may be interested in either selling or buying.


A real gentleman, so helpful
05 May 2017


Mitchell's, communication, knowledge, and helpfulness is wonderful. He is so informative when it comes to how the market is travelling, expectations of price, buyer feedback, seller advice & assistance Mitchell is super professional. He is a genuinely a nice guy , it was an absolute pleasure having him help us sell our home. I would recommend him over and over. 
The entire Elders team are great and I would love to thank them all. Mitchell is the best!




We couldn't be happier with our experience with you and your team, and would definitely choose yourself and your team to both rent from, and in the future use as property managers. 
Your professionalism is outstanding and thank you for being wonderful to deal with.
Kind regards, 
Blake and Emma

To whom it may concern,
During my recent association with Elders Real Estate Picton I have found their staff to be extremely helpful and friendly. In particular I have received outstanding service from Venessa Moules who was looking after me during my three month association with Elders.
She provided such a professional service and was exceptionally helpful and prompt in addressing any issues or concerns.
I highly recommend Elders real estate to anyone looking to rent a property or a vendor looking to have a real estate manage their property. 
Kind regards,
Anysia



Good Morning,
We want to thank you and Vanessa for selecting us and looking after us so nicely along the way. We ve really enjoyed living here, will miss it and hope we leave the place at least as nice as we found it.

Sincerely 
Mark Charlene 



Just a quick email about Vanessa who manages our property. 
She is amazing. 
I feel like I speak to her everyday sometimes (not actually everyday lol) because the hot water went or the power company messed up their billing or G& W has send the bill to the wrong address. 
Regardless of what it is she is always happy to help. When she says she will ring or email that's exactly what she does.
I don't know what she being paid but I think she worth more money 🙂
Isaac



Hi Amanda and team,
Thank you for being an awesome real estate that gets on to things straight away.  No complaints from this Tenant.  Sometimes it's nice just to be acknowledged and know you are doing great job!
Cheers Tina


Wonderful words about Venessa Moules!
My 5 year association with Elders Picton has been flawless. The management of my property at Bargo has always been professional and has left me totally relaxed and stress-free knowing that my interests and the tenants interests are well looked after.
In particular Venessa Moules sets the gold standard of what a property manager should be. Always friendly, informed and proactive.
Thanks Elders for a wonderful working relationship!
Ms Gray


Making the process as simple as possible
I would like to thank you for your recent assistance in finding a rental property for my young family and myself. Selling a property and having a tight timeframe had it's concerns, but your professionalism and care helped relieve the building pressure.
Your knowledge of available properties and your consideration for my family needs was outstanding. Your advice was concise, clear and practical – with a considerable amount of empathy for my personal situation.
Your team at Elders (Picton) were extremely professional and helped make the process as simple as possible. The communication through your office was very helpful and kept me informed throughout the process.
I can't thank you enough for your help, care and assistance.
December 2015



Honest, reassuring manner & cool headed approach

Julie and I were very happy with the way Elders Real Estate, Picton handled the sale of our house in Picton. As a property professional of many years myself, I have always had an impression of Geoff Eagles as a person of integrity and honesty. This is the main reason we went with Elders and we weren't disappointed. His advice on the marketing of the property, he and Tamara's constant updating us on every step of the process, Geoff's calm reassuring manner and cool head during the negotiations, all made the process a smooth and successful one for us. We would be pleased to recommend them to anyone looking to buy or sell property in the Picton area.

December 2015



Pleasing and Painless Process

"TO WHOM IT MAY CONCERN
Up until June 2014, both Denise and I had lived for 32 years in our family home. On commencement of retirement, we were able to sell our home in preparation for our move to a new house under construction at Lake Macquarie.
We had not been in a position where we were required to acquire a rental property before and we needed to do so for the duration of the build. We did experience some difficulty in acquiring a property initially.
Our experience with Elders Real Estate at Picton and with Venessa Schols in particular made the acquisition of a rental property a very pleasing and painless process. From the outset Venessa maintained a very good level of professional communication with us right through the application process, fully explaining our responsibilities, putting us at ease and finally letting the property to us. We had not been in this type of position before and our early experiences with estate agents prior to Elders had quite frankly frustrated the both of us. The move into the property in Tahmoor in July 2014 was painless and was initially for 8 months. However, when it came time to extend our rental period for a further few months Venessa again ensured there was no disruption to us and this demonstrated the flexibility of Venessa and Elders in attending to customer needs. During our 12 months in the premises in Tahmoor, there were very few occasions where it was necessary to make contact with Elders. On the occasions that it was necessary, our needs were attended to efficiently and professionally.
Finally, when it came to ending our lease, we found this process very simple and easy thanks again to Venessa. The process of exiting was fully explained and again, we were able to finalise our time in Tahmoor without any fuss.
Our rental experience in Tahmoor was pleasant and we rate this experience very highly. We would have no hesitation in recommending Venessa and Elders Real Estate to all future tenants and investors.
Yours sincerely
Jeff and Denise 
21 July 2015




One very happy owner!


I would like to say thank you to Elders Picton. From my initial contact with them they have been prompt, professional and courteous. Elders found a tenant quickly and arranged EVERYTHING for me with no fuss. As a landlord I would highly recommend Elders. You will be well taken care of. Thank you Ashley and Amanda.







Some of our happy vendors and their kind words!


I liked the fact that you were local and I had dealt with Geoff when we originally bought the house (2000). There is always room for improvement, but at this moment in time I can't think of anything, you were all very friendly and helpful and available when I needed.
Julie
June 2015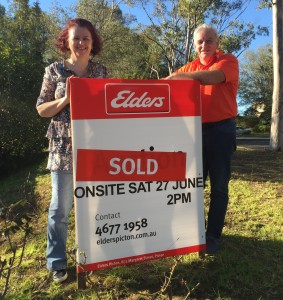 More kind words for Venessa and the Elders Team
Thank you to Venessa and the staff of Elders Picton.
Thank you for giving me the opportunity to rent a property through you. I will definitely recommend you as the only real estate to use in the Wollondilly Area.
If I do return to the Wollondilly Area you will be the first real estate I will call….
Thank you again
Kobi
June 2015
Lovely
words from one of our landlords
"Hi Venessa,
The photos look great.  Hard to imagine it is the same place. You have done a fantastic job managing all of this. Thanks so much.
Thanks again for the help and excellent communications. I really do appreciate it.
Regards,
Alan
May 2015




Pleasure dealing with Venessa 


It was a pleasure dealing with the Elders team and Venessa in particular. The service was always both friendly and professional and I felt that the best interests of both myself as a tenant and of my landlord were always carefully considered. If I own a property to lease in the future, I will definitely be relying on Elders Picton as my managing agent.
Thank you.
Laura






Wonderful experience from property management


Thank you! You guys have been wonderful.
I have recommended you to friends and will continue to do so
June Fernandez





Outstanding service from the property management team


Property Management  Staff,
I just wanted ti say thank you for all your assistance with finding and securing us a rental property.
We were first time renters  and have been amazed at the service and professionalism that Elders Picton property management and staff have shown us.

Throughout our lease agreement the property had regular inspections and servicing by trades for items such as smoke  detectors, septic syatem and if we found any item needing repairs it was rectified within days.


Thank you to the whole Elders Picton team – It has been a pleasure dealing with you and I would highly recommend your services.
Kind regards,
Brooke &  Mick
Attention to detail
Dear Geoff & Tamara
I really appreciate your friendship and your attention to detail in the sale of my property.
Kindest regards,
Cec White
Feb 2015





Respectful & Trustworthy


"When my husband and I made the difficult and sudden decision to accept an interstate  transfer  with our employer, our immediate  concern was our family home.  We knew that whoever we chose to  help us find and retain respectful and trustworthy tenants had to themselves  be respectful and trustworthy. Amanda Eagles and Elders real estate Picton came highly recommended, and from the very first contact Amanda was  professional, open and honest. It has been 7 months and i am happy to say that we made an excellent  choice. Our current tenant  respects  our family home  and our real estate are  always looking out for us and giving valuable  advise, which as a first time  investor in the rental market is invaluable. "
Alison
Property Investor
February 2015





Exemplary work by Amanda Eagles 



"We have had the benefit of experiencing Elders Picton both as a vendor and more recently as a tenant. 
In both cases the experience has been exemplary. 
We would have to say that Amanda Eagles epitomises the high standard of client service we receive from the agency.
There is something very reassuring about Amanda's can do attitude. It's delivered with a warm smile every-time. 
Nothing is too difficult. Everything has a solution. 
Whether Amanda realises this or not there is one word that sums up why we are very happy to recommend Amanda as the the real estate agent of choice. Integrity.
Chris and Sonya Spanos"
January 2015







Approachable & professional
Nev and I would like to thank you for all your help selling our house, your entire team were exceptional.
I must admit we have never dealt with such a professional group of Real Estate Agents EVER.
A personal credit to you as our principal agent, you were extremely helpful, informative, friendly, approachable and always remained professional.
Your quick response to emails or phone calls and getting back to us when you said you would was outstanding.
Your experience and knowledge of the market made the entire process stress free.
We would recommend Elders to anyone and once again thanks for everything.
Beth & Nev Deering
December 2014




Some kind words from our lovely Vendors!
'What a great experience this was with Elders Real Estate Picton whom sold our house for us in no time. Great result would highly recommend them if your thinking of selling your property. A great team to work with. Thank you Elders Picton..'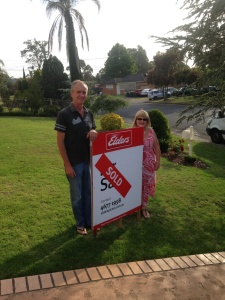 Communication has been first-rate
Good Morning Amanda,
 Thank you for the outstanding work you have done regarding the events that have transpired at the Windeyer St property. The communication has been first-rate. More importantly, you've handled all parties involved with amazing sensitivity and professionalism under what has been trying circumstances for you personally. Thanks for your resilience here.
Warm Regards,
Ian
August 2014